Create a 5"x7" palette page with your PALETTE; any theme, that includes a butterfly & at least 3 colors from the palette of the colors shown.
The palette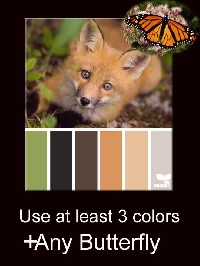 My colours are a little bit darker. I love this page. I received the image of the cup from a swapper. I guess it is an image of Stampin' Up.
Quote on the page: How strange that nature does not knock and yet does not intrude.
Wishing you all a splendid Wednesday:-)